Basic Package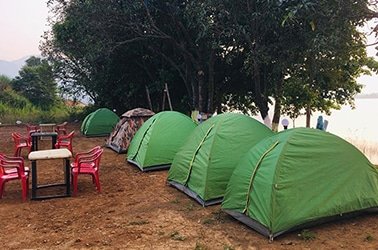 PAWNA LAKE CAMPING, Budget Camping

/Person

999
Check-in - 3 PM
Check Out - 11 AM
COMMON MUSIC SYSTEM
Snacks-Dinner-B/F
BBQ Ltd.
Sanitized Tents
--
Complimentary Games
hygienic toilet x 5
--
Lakeside Camping
Premium Package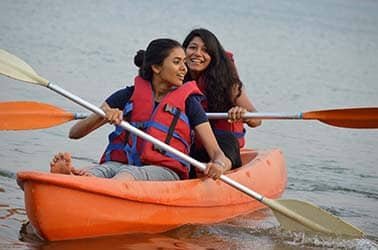 PAWNA LAKE CAMPING, KEVRE VILLAGE

/PERSON

1300
Check-in - 3 PM
Check Out - 11 AM
Common Music system
Snacks-Dinner-B/F
BBQ Ltd.
Sanitized Tents
Generator Backup
Complimentary Games
hygienic toilet x 7
Kayaking / Boating
Lake Swimming
Sunrise Trek
LAKESIDE CAMPING
Triangle Package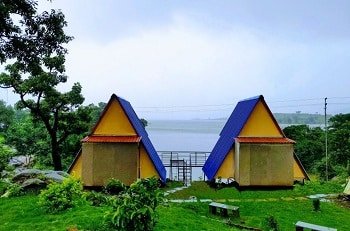 PAWNA TRIANGLE HOUSE (COTTAGES)

/PERSON

2000
Check-in - 3 PM
Check Out - 11 AM
Common Music System
Snacks-Dinner-B/F
BBQ Ltd.
Sanitized Cottages
Generator Backup
Complimentary Games
Attached Toilet
KAYAKING / BOATING
Lake Swimming
Sunrise Trek
Pawna Lake Camping Packages
We have various packages for our customers so that they can enjoy an overnight stay and Pawana Camping in Lonavala.
#Couple Package of Pawna Lake Camping: INR 5000 per couple
#Pawana Camping and Boating Package: INR 2000 per person
#Corporate Package of Pawna Dam Camping & Trekking: INR 2500 per person
We are happy to share that we are a pioneer of Pawna Lake Camping in Lonavala. Looking at our camping vertical, we have taken camping to the next level by introducing various complementary activities and water activities.
We organize various events according to customer mindset to let them enjoy and spend their quality time on the Pawna Lake Camping site.
Following are the selected special days & events that we organize at Pawana Campground
1. New Year's Eve special Pawna Camping
2. Holi Celebration & Pawana Camping
3. Eid special biryani & BBQ party at Pawana Camping site
4. Corporate Team outing at Pawna Lake Resort
5. Birthday Celebration at Pawna lake camping site
6. Get together parties for families & friends
7. School – College Reunions at Pawna dam camp
Pawna lake camping bookings are more frequent and attract crowds from Mumbai & Pune, as camping near Pawna lake makes awesome lifetime memories.
Pawna Lake Camping
Relax yourself, feel the leisure and enjoy the campfire session by camping at Pawna Lake Camping.
 We, 
Small Steps Adventures
, organize Lake Side Camping at the backwaters of Pawna Dam near Lonavala. The picturesque campsite offers a beautiful view of the lake situated right in the middle of the surrounding Sahyadris. Barbeque, Sumptuous Meals and Adventure Activities like Archery, Rifle Shooting,
Kayaking
, 
Motor Boat Ride
, Pedal Boating makes the event of camping exciting and refreshing one. With the backup of Power Generator, our campsite is well illuminated ensuring an undisturbed experience to our customers.
.
We also provide various packages of Camping along with various adventure activities. Please visit our package section to know the exact details of the same. We also take personalized requirements to provide you what you need. Therefore, please feel free to revert with your queries so as to serve you a better experience.
Pawna Camping
Did you ever have a surreal experience of camping by the lake? Blessed with fantastic nature, Pawna dam is a man-made reservoir surrounded by natures' best. It is one of the ideal spots for camping near Pune, a perfect spot for making happy memories with friends. While there are a plethora of opportunities for camping near Lonavala, there is something about Pawna dam camping. It offers a picturesque landscape- with a beautiful lake, lush green lofty hills, and beautiful sunrise and sunset.  We assure you it is the only best way of spending a special weekend with your bae. With a bonfire by the lake and a star-lit sky, you are sure to experience real camping with us. Grab a guitar or your favorite playlist, enjoy the evening with your special someone. Pawna camping offers a campsite right in front of the lake; fall asleep under the sky full of stars and to the sound of water ripples. Wake up to the chirping of birds and rustling leaves. It is the place for you to get into nature and spend some me-time with nature
Pawna Lake Resort
We have a wonderful resort situated on the bank of Pawna Backwaters. Pawna lake resort is very unique with Lakeview wooden cottages. Though it is costly if you compared to Pawna Lake Camping Price, more worth than it.
Pawna Lake Packages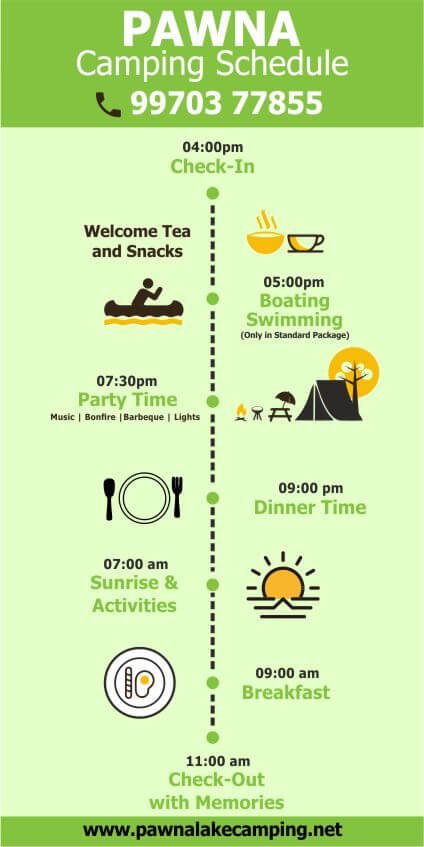 Happy Customers
Pawna Camping

"We booked a triangle house cottages and it was one of the best stays so far. Bro, We loved it. It was more secure and safe. The best part was that it was completely into nature. And thanks for the Private waterfall hike. My kids enjoyed it the most. Pawna lake camping price was nothing that you offered and served us. I will recommend it to my friends."

"It was our team outing of Reliance Insurance (Goregaon) with 80 people. Thanks, Yogi & Ravi for helping start from booking to execution. You guys managed it very well. I will recommend this to other corporates as well."
Prahastha Panchaity
Manager

"It was an amazing weekend at Pawna Lake. we really spent quality time at your Pawna lake campsite. I loved all the activities and majorly the rustic ambiance. Tents were really branded as said by Ravi. As a group of girls, we were a bit worried initially but later we enjoyed it a lot. It is completely safe and all these people really take care throughout the time. Highly recommended!!"
Srushhti Trivedi
Marketing

"We went for new year's celebration camping events. As it was in Lonavala, the temperature was really low. We had a great time on new year's eve. DJ was amazing and the light show literally killed it. Will be coming back with my family next time. Thanks, Ravi for making it hassle-free."

"It was worth visiting Pawna campsite. We really wanted to enjoy tent stay. That too, it was lakeside camping. Also, Vivek helped us in making BBQ and it really tested amazingly. Morning sunrise view from the tent was mesmerizing. I don't know swimming but due to life jackets, I was really able to enjoy swimming in the lake. This was not a typical stay, it was one of a kind that we loved so far."
From the Blog
Life is either a daring adventure or nothing.
As a traveller, you always look for the best and cost effective plans. Here you…
Hello Tourist, Everyone is now wondering that beautiful tourist places near Mumbai and Pune are…
Looking for a perfect weekend trip with your family and friends? Are you looking for…
READ ALL POST
Navi Mumbai , Maharashtra, India